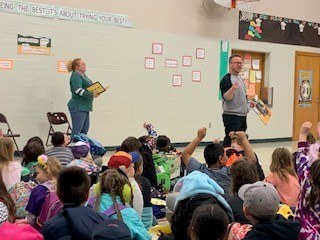 Read Across America Comes to Mountainview Elementary
Mar 7, 2023
Students at Mountainview Elementary School celebrated reading this past Friday with their Pride packs as they celebrated Dr. Seuss's birthday, (the day after actually), and Read Across America! The students were so engaged with exploring and enjoying all of the different books and poetry.
Students went through three station rotations in their Pride Pack. At each station, students were able to listen to a book and had a fun activity that tied in to what they had read. Some examples were Green Eggs & Ham with a fizzy fun science activity, Skippyjon Jones with planet mobiles, The Boy who Grew Flowers with a listen and sketch and The Bad Seed culminating in planting a sunflower.
At the end of the three rotations, ALL of our students met in the gym where we had a very special treat waiting! Our very own Ruth Veselka, teacher from the Junior High, and Brandon Lamb, teacher from Wide Hollow Elementary, came out and put on a hilarious "Reader's Theatre." They used the book, Once Upon a Cool Motorcycle Dude, and not only were the students engrossed in their version of the story, but staff members were too.
Principal Debbie Cameron mentions: "It was a great way to value the importance of reading and end the week on such a fun note!"
---